http://www.instantschavires.com/spip.php?article894
vendredi 22 novembre 2013
DEDALUS PRÉSENTE EN COLLABORATION AVEC LES INSTANTS CHAVIRÉS
ENSEMBLE DEDALUS
"Made in USA - New York 2013"
///////////////////////
Made in USA - New York 2013
Champions des partitions à instrumentation libre du minimalisme américain des années 60/70, les musiciens de Dedalus ont commencé à élargir leur répertoire depuis 2 ans à des créations et commandes.
De part le monde, on assiste, en effet, à l'émergence d'une nouvelle génération de compositeurs qui reprend à son compte et développe un certain héritage de l'expérimentation dans la musique écrite.
Pour ce projet, Dedalus a commandé de nouvelles pièces à 9 jeunes compositeurs new-yorkais. Créé en septembre à Roulette (NY), le premier concert de l'ensemble aux USA a été salué par Time Out NY et
le New York Times
.
9 pièces nouvelles de compositeurs pour la première fois joués en France, dans lesquelles on retrouve les influences de James Tenney, La Monte Young, Wandelweiser ou John Zorn.
Copieux programme pour vérifier si, comme l'affirme l'une des pièces du programme,
The young generation is right !
///////////////////////
Programme
Devin Maxwell
: 40° 44' 5.82" N, 74° 1' 38.53" W
Jonathan Marmor
: Penguin Atlas of African History
Quentin Tolimieri
: Any Number of Instruments
Michael Vincent Waller
: Ritratto
Craig Shepard
: Coney Island, April 15, 2012
Jason Brogan
: Deux études
Catherine Lamb
: Overlays transparent/opaque
John Hastings
: Theory of Harmony
Travis Just
: The young generation is right
////////////////////////////////////
DEDALUS ENSEMBLE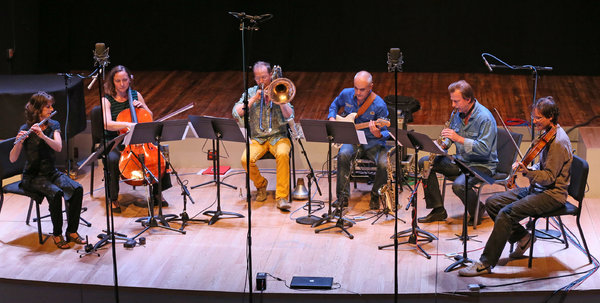 Amélie Berson
, flûte
Cyprien Busolini
, alto
Pierre-Stéphane Meugé
, saxophones
Thierry Madiot
, trombone
Deborah Walker
, violoncelle
Didier Aschour
, guitare
http://dedalus.ensemble.free.fr
http://dedalusensemble.blogspot.com/
Avec le soutien de la DRAC Languedoc-Roussillon, la Région Languedoc-Roussillon, l'Institut Français, la ville de Montpellier et le French American Fund for Contemporary Music.